Hello underdogs! I hope that you have been having a lovely week so far! I am super excited about the new this new season of Doctor Who! It is finally back on our screens after only 2 episodes on the air in an almost 2 year span. It was very hard to wait and wait, but it looks as though it was worth it! Here is what I thought of the newest show, and our new friend, Bill. I'm going to give you my thoughts, but I am not going to give the plot away. That's for you to view if you want.
We find The Doctor who is currently a professor at Coal Hill School. For those who don't know this reference, this school has showed up many times in the history of the show. The Doctor has taught here on and off, and his granddaughter, Susan attended school and started this whole big adventure. Clara also taught there, as well as Ian and Barbara. School Reunion took place there, as well as the 50th anniversary. I believe the new show, "Class" is also taking place at this school. We find that the Doctor has been teaching there at least 75 years. In the basement, there is a door with words written in Gallifrian, the language of the Time Lords which he and Nardole are guarding, protecting, or trying to break into. We aren't really sure. Bill is a canteen girl who serves chips. (Very reminiscent of Rose who did the same job during School Reunion.) Bill is not a student, but she is eager to learn, and the Doctor is willing to teach. He takes Bill on as his private student because of her hunger and willingness to learn.
They form a bond, and Bill finds herself in need of the Doctor's help. I won't give all the spoilers away, but she has a creature following her through both time and space.  The Doctor and Bill's relationship is wonderful. It is not only a student/teacher aspect, but friends. I can see these two getting into all sorts of trouble together. This was a very simple story, and it was so very refreshing to see that this introduction of our new friend was not over the top. Bill cared about someone, and the connection was real. She lost the girl she liked, and made a tough choice. It was heartbreaking, and simple, and such a great way to set up the story for Bill.  Of course we got our famous line, "It's bigger on the inside!" And for the first time ever, we had someone ask for the toilet.
One of the most amazing things about this particular show was all of the inclusions of past people and places. The Doctor's office is set up with photos of River Song, and Susan. He mentions repeatedly what TARDIS stood for which is directly from Susan. Susan named the TARDIS, and she was the one who explained this to people who would travel with them.  This makes me wonder if we will be seeing Susan again! I really hope so.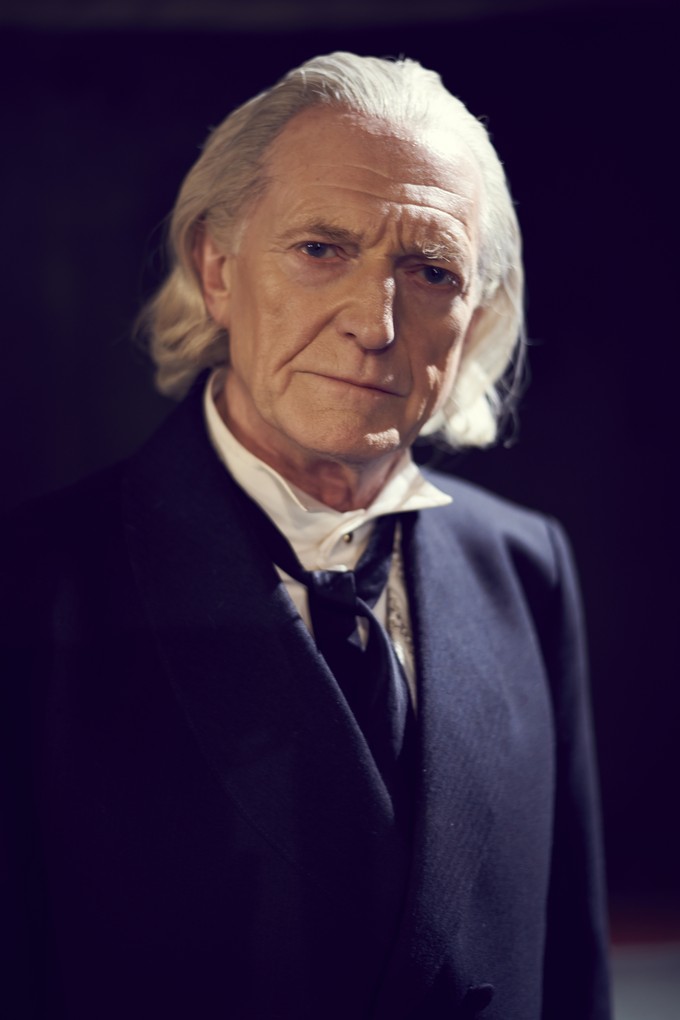 We know that we will be seeing the First Doctor again who is played by David Bradley now. He is most well known for Harry Potter and starting the blood bath at the red wedding in Game of Thrones. There is no information about this besides the fact that he will be in this series. Maybe, we will get to find out what happened to Susan! Her story is very "up in the air" because of the audio adventures. For the show, Susan was locked out of the TARDIS by The Doctor in order to help her leave and stay with Peter. She would have stayed to take care of him forever, and lost her chance at the love of her life. We don't know her fate after that because The Doctor doesn't know where she is, or if she is still alive. It is well known that Peter Capaldi has asked several times for Susan to come back, and we may get that chance.
It was fun seeing the Dalek for a few moments on the screen with Bill. However, they were used and not the main baddie in this particular show. We have such a great set up with the school, The Doctor teaching, and Bill that this is going to be an amazing season. This is so bittersweet because this is what Peter Capaldi deserved from the start and he is just now getting great stories just as he is leaving. Bill is such a diverse and wonderful character, and is very likable! I am so excited to see what happens next. There were more questions than answers in this episode, like who did The Doctor promise to not leave? Why has he been hanging around for the past 75 years teaching. What is behind that door? When is John Simms coming back, because we only got a second of him in the teaser!
All in all, I was very happy with the show. Meeting Bill was like meeting Rose. Although I loved Clara, her story was complex and impossible. Amy's character while charming, was a bit annoying and her introduction was tough. This felt right like it did with Rose, and like it did with Jack. You just know that this person belongs in the TARDIS with The Doctor traveling through time and space. Bill was ready for the TARDIS, and we were ready for her!
Easter Eggs:
Photo of River Song
Photo of Susan in black and white. This was from Carrie Anne Ford's original photo shoot for the show.
Nardole admits he likes The Doctor.
First shot of the TARDIS from the prospective of the windows.
First time anyone asks The Doctor for the bathroom. If you listen to the directions, you find that it's not easy to get to.
Bill has been reportedly named after Billy Pipper who played Rose. Her nickname is Bill, and Steven Moffat said that was a factor in the naming process. However, someone pointed out that the original Doctor was named William Harntel, also known as Bill. Bill's wife was named Heather. Bill's love interest was named Heather.  I love this show much!! I can't take credit for this fact, but this is wonderful and loving! This show is amazing and it loves it's past and never forgets where they have come from.