Please be advised that none of the foods represented in this blog post should ever been consumed by any human being, at any point! This is all expired food! "1990's Foods you can Buy on Ebay," contains affiliate links. For more information, make sure that you check out the disclaimer on the promotions page. 
Underdogs, I have been spending a lot of time in the hospital in the last two months. Sometimes, I entertain myself by searching  for some strange things that I can find on Ebay. Last week, I looked up items that were labeled haunted. If you missed that, please go check that blog post out!  This time, I decided to find something from my childhood. These are things that I honestly didn't think I would find, but there are foods people are selling from the 1990's. I had a vision of a Superman Hot Chocolate that I recall when I was little. This sent me down a rabbit hole and here are some real foods that you can purchase on Ebay right now that came from the 1990's! Now, this should go without saying, but if you follow the link and decide to purchase, please don't consume any of it! There is no way in the world that food is safe to eat at this point, so only get the item if you want to display it.
4 Vintage 1990's Penguin Pepsi Cans:
Pepsi Penguin Can Collection: 1990's
Let's start with something simple and not dangerous at all. Here is an adorable collection of 4 Penguin Pepsi cans from the 1990's. These are just cans, so no soda is involved at all. I sort of recall these being popular as a child, but there have been lots of fun characters in soda campaigns for the last several years. Either way, these are cute cans, and if you are someone who wants these to add to your collection, it's only $9.99.
Orbitz: Pineapple Coconut Banana Cherry:
This is an actual unopened bottle of Orbitz. If you have never had this drink, you may want to consider yourself lucky. This is a clear liquid with fruit flavoring. However, it also includes these little gel fruit flavor gel bubbles are also included. This makes the whole thing seem like a lava lamp. I remember these well, and I recall that it was expensive, tasted gross, and it was very easy to choke on. This little ditty from the 1990's is only $29.99. Judging by the photo provided, this drink has seen better days and you should never try it! If you are worried, there are 2 small dents in the cap, but otherwise, I think it looks as good as it can considering the age. I believe back in the day, these drinks were around $3.00 each.
Runtz Merry Mix:
While I remember Runtz, I don't recall seeing this at all. The seller lets us know that this vintage 1990's treat was very rare. In fact, they have only seen this one! It was only made during one Christmas season, so this is pretty rare. This is an unopened package, but again, don't ever eat these! I thought this was pretty cool since I've never seen them before and Runtz today don't taste like they used to. Are they ever around anymore? I'm not even sure!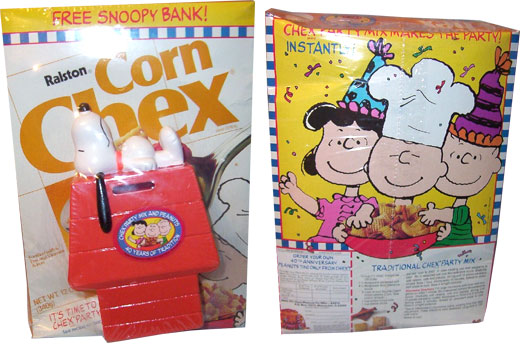 Corn Chex Cereal with Snoopy Bank:
This sealed, pre-owned Corn Chex Cereal has the really cool addition of a Snoopy Bank! This item is from the 1990's, and is selling for $34.95. I did have these around as a child, but it didn't leave a huge impact on me. Just like I did when I was a child, I picked this out based on the cool toy that is coming with the box!
Kool-Aid Island Twist Kicking Key Lime:
Kool Aid Island Kicking Key Lime
This was one of my favorite flavors growing up in the 1990's. When you grow up poor, 29 cents is too much for a packaged drink like these when you could get the store brand for about a dime. So if we got to have Kool-Aid, it was a treat! Now, for only $34.99, you can get not one, but two sealed packages! These were found by the seller after cleaning out their Grandma's kitchen, so this makes me feel way too old! I can't say that I could keep from trying these if I bought them. That's why I won't!
There were a few items from Ebay that you can purchase right now that came from the 1990's. While this took me down memory lane, it makes me worry what in the world we all used to put into our bodies. There were a lot of bright and colorful images that did most of the drive for what we wanted to eat. I'm sure that those of us who grew up during this time will pay for it later on in our health. It's nice to look at some of the fun things, but it also gives me paranoia on what we all used to eat!
What's a past snack item that you miss and wish that were still around today? Leave your comments down below.